How to Find an Internship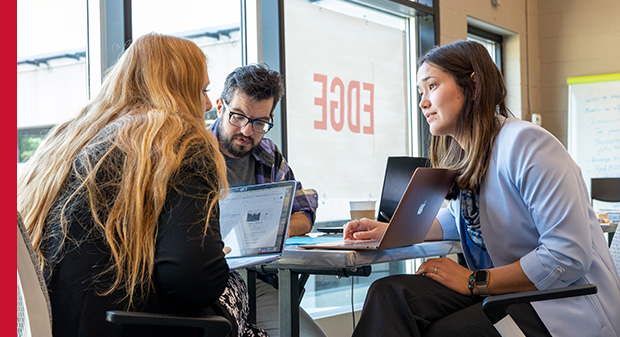 What an Internship Means in 2023 and How to Find One
When you think of an intern, you may conjure up images of making coffee runs, organizing files and doing endless busy work. It's a common stereotype in movies or tv shows, but it's far from the reality of what an internship looks like in 2023.
The depictions above may still exist here and there, but for the most part, internships have become an important step on the path to a promising career. Employers have begun to appreciate the value that young, eager professionals can bring to the table.
If you're looking for a meaningful opportunity to gain work experience and start building your network and resume, an internship is a great idea. There are also other innovative options worth exploring that provide similar benefits.
We enlisted Eric Lloyd, Executive Director of Denison Edge, to get his advice on how to find an internship and other opportunities to jumpstart your career.
But first, what is an internship?
An internship is a supervised position in a professional workplace. Interns might be paid or unpaid and work full or part time in a wide variety of roles, depending on the organization. Many undergraduate programs require students to complete an internship of some kind. Internships can also be filled by recent college graduates as a way to ease into the workforce.
These positions can offer many benefits. A good internship can help you build relationships, gain workplace experience and explore different fields. A great internship could lead to all that plus lifelong connections or a job straight out of college.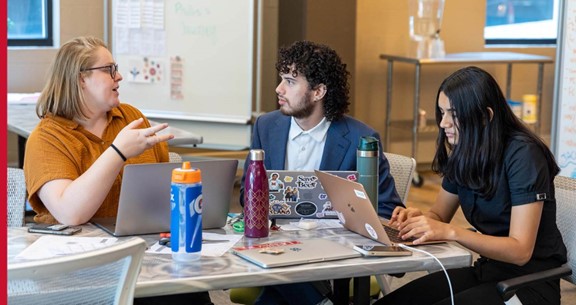 4 Benefits of an internship or similar experience
Still not convinced that an internship is worth your time? Check out the following reasons why you might reconsider.
1. Build confidence in your own skills
Transitioning from college into your chosen career is a big change. Completing a professional internship is a great way to get a feel for the corporate world, building confidence in your own abilities as you go.
As an intern, you get to practice learning company culture, integrating into a team, asking good questions and receiving constructive feedback, among other things. These are all important and highly transferable skills that will help you succeed in any workplace.
2. Strengthen your resume and portfolio
When it comes to competing for jobs after graduation, having an internship or similar experience under your belt could help give you an edge over other candidates. "Employers appreciate entry-level candidates who already have real professional experience," Lloyd explains.
Plus, you'll have concrete examples of presentations, reports, designs, products, projects, press releases, etc. to add to your portfolio. Translating your lived experience into line items on your resume can be tricky at first. For guidance on this, check out our article "How to Strengthen Your Resume Through Hands-on Experience".
3. Make friends and start building your network
Whether it's shared interests or simple proximity, making friends at work is very common. Many people find that some of their most enduring friendships were formed in the workplace.
As an intern, you'll have the chance to meet people at all levels of the organization and potentially even find mentors. Putting yourself out there and networking with other professionals can feel awkward even for the most extroverted among us, but it's definitely worth doing. You never know what doors someone could open for you someday.
4. Increase job opportunities
An internship has the potential to be a total game changer when it comes to finding a job, especially for recent grads trying to break into an industry or competitive career. According to the Job Outlook 2022 survey from the National Association of Colleges and Employers (NACE), internship experience is one of the most influential factors that employers consider when hiring.
While it's far from a guarantee, internships can lead directly to a job. The same NACE survey revealed that 8 out of 10 employers extend job offers to their own interns. Whether or not you're at the same company, your colleagues could play a key role in landing another job in the field.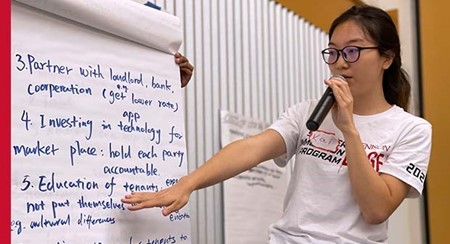 How to find an internship that's valuable
When it comes to finding an internship, there are many ways you can search for opportunities. Online tools can provide a great start, but many people find success in leveraging existing contacts and relationships.
Your first step should be to explore any resources provided by your college or university. Denison University students and graduates, for example, have full access to the Austin E. Knowlton Center for Career Exploration. Our career coaches and industry experts are there to provide support and guidance every step of the way and help them leverage the extensive Denison network for mentoring, internships and job placement.
Consider these other tips for finding an internship:
Consult a career advisor
Attend career fairs
Research and reach out to companies you're interested in
Ask your professors if they know of any opportunities
Question your family and personal connections
Browse internships posted on online platforms like Handshake, LinkedIn, Indeed, Internships.com, USAjobs.gov, and Glassdoor.com
It should be noted that not every internship results in a high-quality learning experience. This could happen for many reasons, including a lack of meaningful ways for interns to contribute, unclear expectations or an absence of constructive feedback.
Lloyd notes that when interviewing and applying for intern positions, candidates should always quiz the company, as well. Not every opportunity is going to be the right fit, so take some time to look around and talk to different people.
Below are some examples of questions to ask during an interview, whether it's for a job or an internship.
How would you describe the company culture?
Is there a detailed job description that I can review?
What does success look like in this role?
Will I have a direct supervisor?
What opportunities are there for professional development?
What kind of projects or problems can I expect to work on?
Other ways to gain hands-on experience
Internships have become a somewhat traditional step in a college student's journey toward the workforce, allowing them to dip their toes in the corporate world. But if you're ready to dive in head first, you might consider pursuing a more innovative experience.
The CX Innovation Lab from Denison Edge was designed to give ambitious young professionals a way to submerge themselves into a transformational learning environment. Throughout this eight-week summer program, you'll work with industry experts and other students from universities across the country. Together, you'll help organizations solve business problems—allowing you to make a real impact while gaining a competitive edge as you launch your career.
This immersive program will provide you with invaluable coaching, mentoring and feedback all while gaining tangible work experience to showcase on your resume. Regardless of your major or intended industry, this enriching experience can jumpstart your career in ways you never realized.
Sharpen your competitive edge
You now know how to find an internship, the benefits they offer and other comparable experiences that can help set you apart in your job search. Forget the traditional notion of an internship and start searching for a contemporary, career-boosting opportunity.
If you're looking to go beyond the typical summer internship and push yourself to learn and grow in a whole new way, learn more about the CX Innovation lab today!
For current or former Denison students looking for internships, visit the Knowlton Career Center to explore opportunities.