Denison Edge Program:

About Edge
An innovator in providing stackable skills and certificates for today's job market.
---
Denison Edge:
Your destination to upskill while launching, pivoting, or accelerating your career.
Located in Downtown Columbus. We keep our finger on the pulse of industry leaders to build your skills and experiences that employers are looking for. Our team curates instruction based on these needs and offers a stackable, credentialed programs to prepare you for what's next in your journey.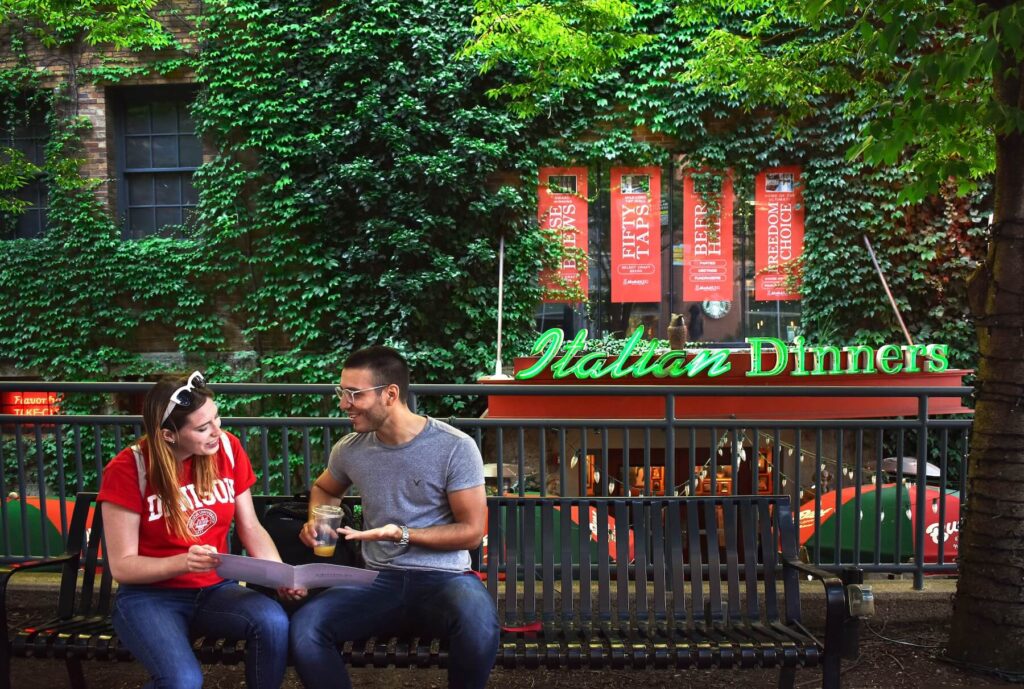 ---
Denison University
Denison University is one of the nation's top liberal arts institutions and is in a league of its own when it comes to preparing students for successful careers and rewarding lives.
Denison's pragmatic approach to the liberal arts bridges students from academics to the work world starting from their first year on campus.
Denison's innovative academic programs are deeply rooted in the liberal arts and provide students with practical, real-world application through in-class, co-curricular, and internship experiences. Because of this, Denison students graduate with an unusually high degree of exposure to and preparation for existing and emerging career paths.
The Austin E. Knowlton Center
Denison Edge is an initiative of the Austin E. Knowlton Center for Career Exploration, Denison's award-winning, on-campus career center.
Knowlton Center staff are career counseling experts who coach students one on one and through small-group workshops. They facilitate internships, and provide job search resources, graduate school counseling, and close knowledge gaps with profession-specific skills development.
The Knowlton Center's innovative and ever-evolving suite of programs prepares students for lives and careers, and connects them to Denison's extensive alumni, parent, and employer network for mentoring, internships and job placement.
Edge Team
AVP Career Development
At the core of every organization is a story; Laurie Kamerer helps tell those stories. A tenured marketing and communications executive, Laurie drives business results through strategic, engaging, and relevant content development. Her expertise in employee engagement and cultural transformation has equipped Laurie to effectively influence opinions, beliefs and behaviors, and thereby affect broad-based change. Laurie brings her tri-athlete sensibility to all she does. Racing triathlon demands the technical skills of three sports. It requires a strategy and a plan. But most importantly, it requires resilience and the agility to pivot in a heartbeat. Laurie graduated from Stanford University with a BA in International Relations and went on to earn her Master of Journalism degree at UC Berkeley. She serves on the board of the Boys and Girls Clubs of Central Ohio.
Belle Giggard
Operations & Customer Experience Manager
Belle's unwavering commitment to collaborating with individuals and crafting meaningful, successful events and experiences is the cornerstone of her professional endeavors.
Her prior experience includes facility and event operations for Denison University's Athletic Department, Georgia Southern University, and the Carolina Hurricanes. Belle has a passion for event planning and the details that go into each rental whether that be planning for a wedding, corporate retreat, or university event. She received her Bachelor of Science from North Carolina State University in 2018, where she worked at the University Recreation center and her love of higher education and its programs began. She obtained her Master of Education in Higher Education
Administration from Georgia Southern University in May 2020. She resides in the New Albany area with her husband Mike, and their rescue dog, Bentley.
Elizabeth Skovron
Marketing & Communications Director
When Elizabeth heard about Denison Edge, she knew it was the perfect place to apply her marketing skills with her passion for education and career development. Elizabeth comes to Denison Edge from the advertising space in NYC. She has worked in both small and large advertising and PR firms such as Ogilvy, MSL GROUP, and Piro. While in college, she developed an initiative that helped students and graduates bridge the gap between school, work and interests. She ran networking events, mentorship programs, and led speaking series. Her initiative garnered enough media attention to pursue a career in PR and advertising. Since then, she has worked with a variety of brands such as Tiffany & Co., P&G, Express Inc., Citizens Bank, E*TRADE, Ferrero Rocher, Butterfinger and more. In Elizabeth's free time, you can catch her hiking, cooking, and exploring new towns and restaurants.
---
---