We Create Irresistible Candidates
Located in Downtown Columbus, Denison Edge provides a hands-on, high-touch learning environment where industry experts help liberal arts students and recent graduates acquire the skills and knowledge to launch into, pivot toward, or accelerate their preferred career.
Build skills and gain experiences that prepare you for the workplace of tomorrow.
Earn stackable credentials to prepare you for a variety of roles.
Our instructors are industry professional and professors with deep knowledge of the skills required in today's employment landscape.
---
Upcoming
Programs
Denison Edge programs give students the skills, experiences, and connections that will prepare them for a successful career.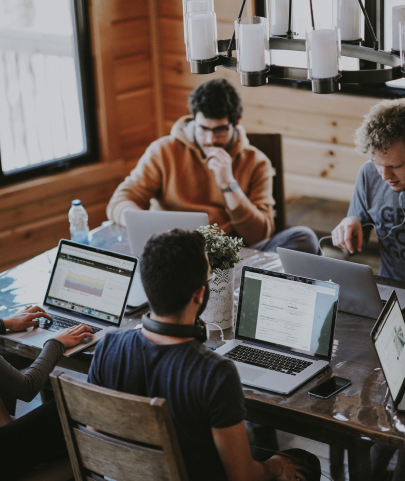 ---
Versatile & Stackable
Denison Edge programs can be bundled or stacked to create the resume you need for the job you want.
Marketing
Marketing is more than just having a great idea. You'll learn practical definitions, day-to-day practices, guerrilla tactics, as well as analog and digital tools that make up marketing today — the kind of foundational marketing know-how that grounds you in an always-evolving landscape.
Sales
Selling skills – identifying opportunities, finding solutions, creating strategies and building best practices – will serve you in every career field. These skills will give you a leg up if you are considering a career in marketing, to human resources, consulting, fundraising, customer service and beyond. A proven four-step consultative process will help you learn to diagnose an issue and match it with a solution that fits.
Analytics
Data is the rocket fuel that propels organizations to new heights. Learn how to harness data to identify risks and opportunities and inform solutions. In this program, you'll practice using data tools and techniques to collect, interpret and share information – an iterative process that will lead to smarter decisions, more efficient operations, and happier customers.
Finance
In businesses and organizations, money matters. Gain a fiscal foundation that will support you across multiple industries and careers. Learn key concepts and principles of finance and accounting and build confidence for interviews, internships, and jobs.
Supply Chain & Logistics
Understanding critical strategic and financial significance the supply chain has on a company's ability to add customer value is key. Learn about and analyze the relationship of Supply Chain Management between other areas of the business and the importance of trade-offs. 
Human Resources
People are at the core of every company. Learn the basics of human resources and hone the skills and information necessary to explore a generalist career in human resources.